Chief Nike Davies-Okundaye
Mama Nike, as she is fondly called, is a visionary, philanthropist and artist. She is the founder of Nike Art Gallery, the largest privately-owned gallery in Africa. The five-floor art gallery houses over 10,000 art works, the largest collection of artworks in West Africa. Her goal was to promote and provide a platform for struggling and established artists. She is the founder of four galleries in Lagos, Osogbo, Ogidi-Ijimu and one that was recently opened in Abuja.
As a philanthropist heavily invested in the welfare of women, she has helped several women to establish businesses and get financial freedom by providing funding for them. As an artist and textile designer, she is famous for her batik weaving and dyeing workshops where she has trained thousands of young people, at no additional cost, in the art of batik and adire production. She has also giving lectures, workshops, been interviewed by CNN African Voices on art and the making of indigo batik and adire. She has taken the Nigerian craft of adire and batik production worldwide. Her elaborate and intricately designed artwork feature scenes of everyday Nigerian life in vivid, unforgettable colours. Her artwork is available to view at the Smithsonian National Museum of African Art as well as other galleries around the world. Her mission is to provide a platform for the promotion of Nigerian artists worldwide.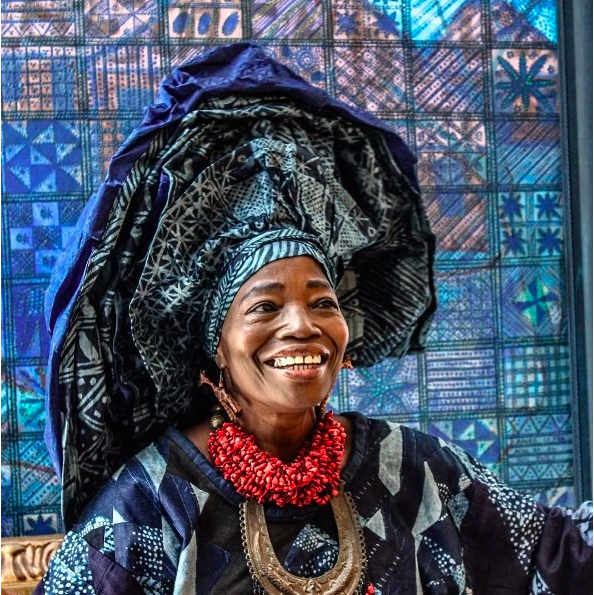 Peju Alatise
Peju Alatise, an architect and artist, is also a poet. She is an expert in mixed media. Her subjects frequently deal with issues like the identity of female perspectives and reflections inside themselves and in society. Peju's work has been shown in her country, Nigeria, as well as internationally, as part of a residency at the Smithsonian in the United States.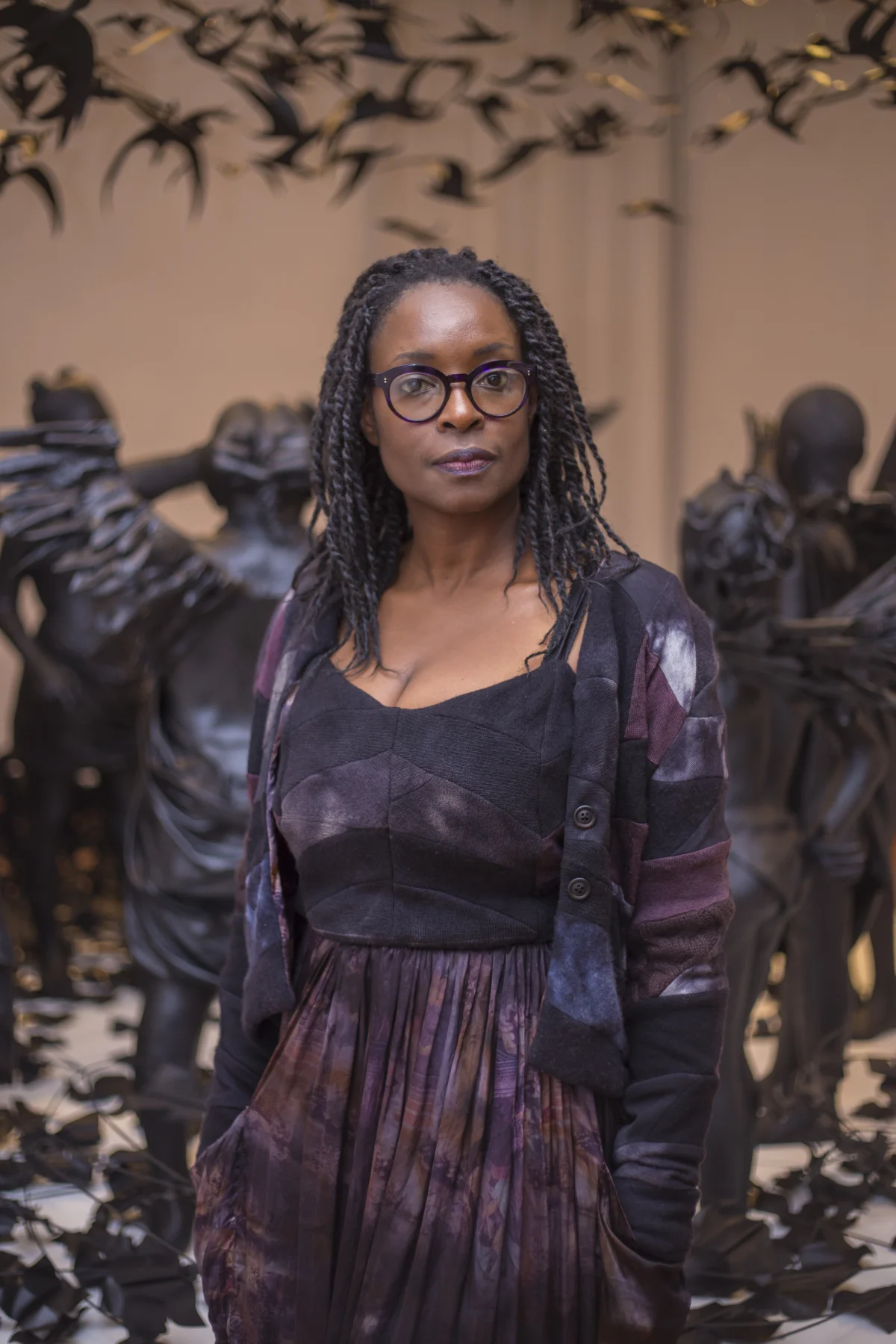 Bruce Onobrakpeya
One of Africa's most recognised artists, Bruce Onobrakpeya can be considered one of the founding figures of modern Nigerian art. The mixed media artist has been exhibited at the Tate Modern, Smithsonian and around Europe and Africa.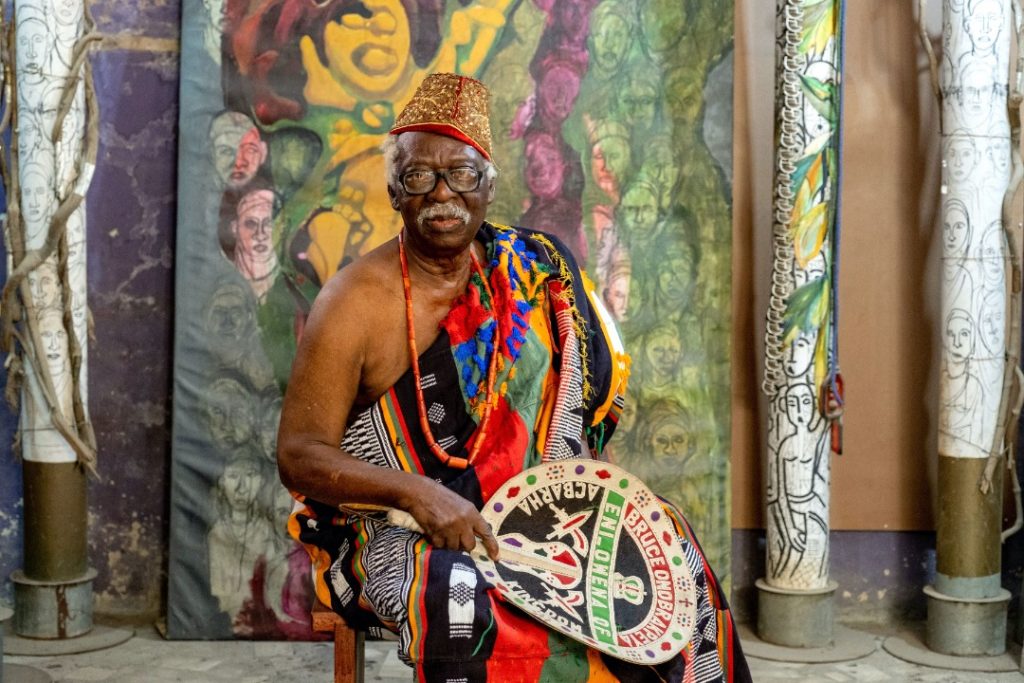 Rom Isichei
The painter is one of Nigeria's bestselling artists due to the scarcity of his signature style of portraiture with the faces segmented. Working for decades now, his vivid brushstrokes are instantly recognisable as are his choice of colours.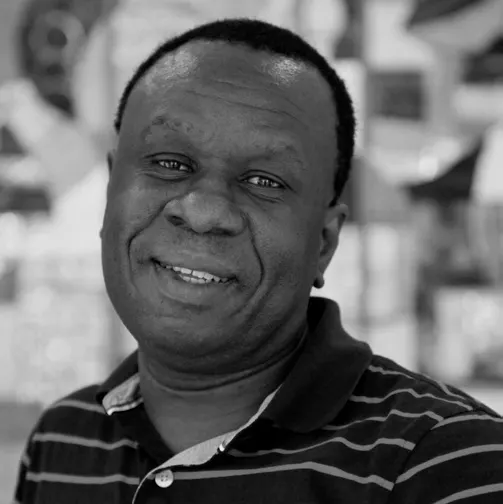 Tola Wewe
Tola Wewe, a frequent collaborator with Nike Davies-Okundaye, is an established artist from Ondo State and was a founding member of the Ona Art Movement which draws inspiration from the Yoruba culture, particularly the water spirits.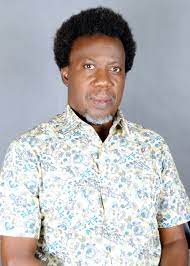 Rotimi Akinnire
Rotimi Akinnire studied at the Lagos Institute of Textile Technology, Art & Design. His work often explores nature, displaying lush trees, forests and woods, leaving the viewer with an impression of a dreamy paradise and permeating the canvas with a serene, surreal ambience. Having jointly exhibited on numerous occasions within and outside Nigeria, his works are sought after by international and local collectors alike.
Tolu Aliki
Tolu Aliki is a post-war and contemporary Nigerian artist, whose works have been auctioned several times at various prices depending on size and medium. The highest auction price for Aliki was for his piece called EVENING OUTING, which was sold at Arthouse Contemporary Limited in 2020.
Durodola Yussuf
Durodola Yusuf is a well-known Nigerian professional painter and performance artist noted for his use of reclaimed waste materials. Durodola's work strives to address socio-cultural concerns such as the human experience, social justice, culture and belief, and environmental degradation; he frequently involves the public in thought-provoking performance art. He is quite vocal about environmental preservation and group action to make the world a better place. He previously claimed, in his performance 'Global Hues,' that we are the change the world is eagerly awaiting.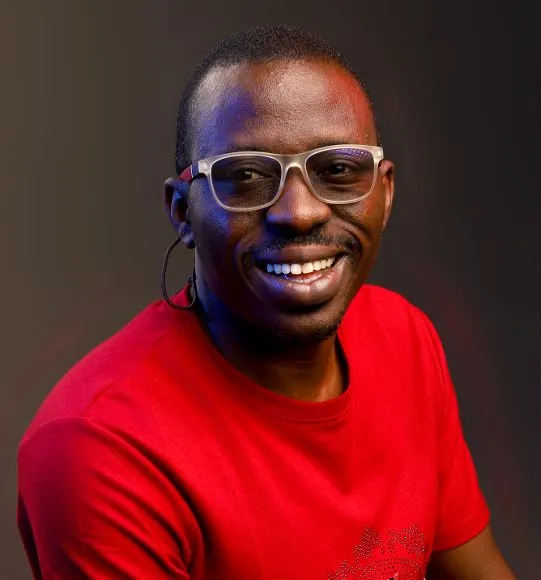 Kolade Oshinowo
Kolade Oshinowo is a Nigerian post-war and contemporary painter. His works have been auctioned several times at ranging prices. Since 2008, the highest auction price for this Oshinowo artist has been for his piece called "Two Sisters," which was sold at Bonham's New Bond Street in 2013.
Kolade is featured in 'Arthouse Auction Consolidates Its Lead on African Market', a piece from South African Art Times published in May 2015.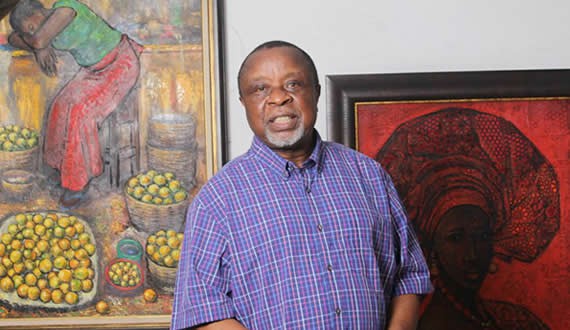 Sam Ovraiti
Colourist Ovraiti shows oil and acrylic paintings with heavy textures, fusing clear influences of Picasso with the colours and light of the French impressionists and his own inimitable touch. Being among the seasoned, most influential painters in Nigeria today, his works radiate a universal beauty with no need for any narrative.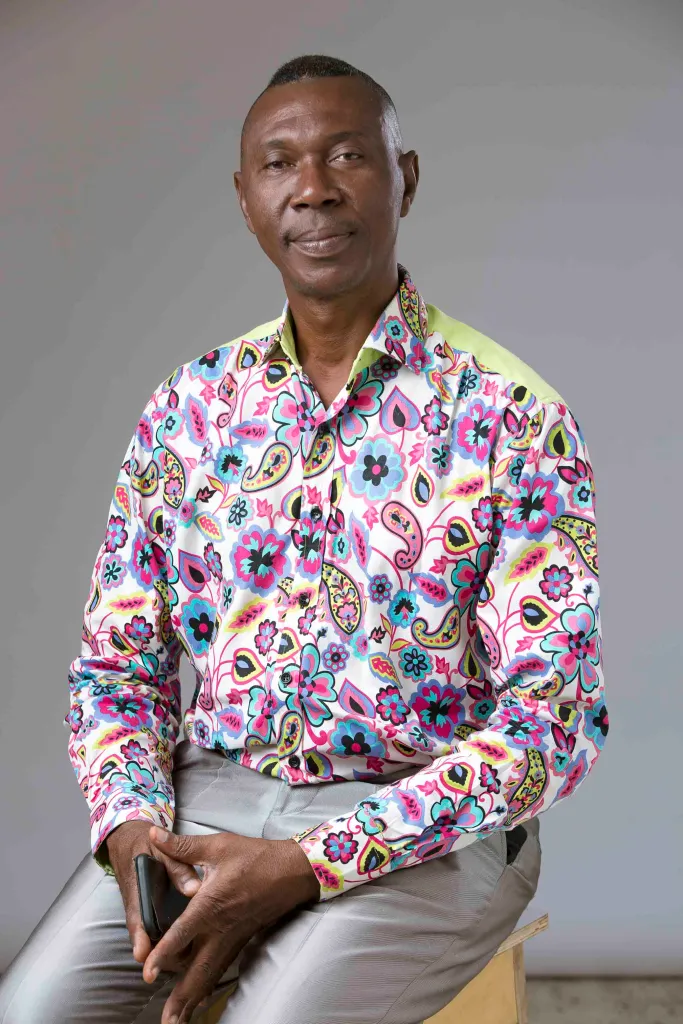 Peju Layiwola
Peju Layiwola is a Nigerian art historian and visual artist who works in a variety
of media and genres. She is recognised as a 21st Century avant-garde in Phaidon Press's book, Art Cities of the Future. She is currently a professor of Art and Art History at the University of Lagos and is known as a multitalented artist. Her works may be found in the collections of Microsoft Lagos, the Yemisi Shyllon Museum, Pan Atlantic, Lagos, and individual collectors such as JP and Ebun Clark, as well as the Obi of Onitsha.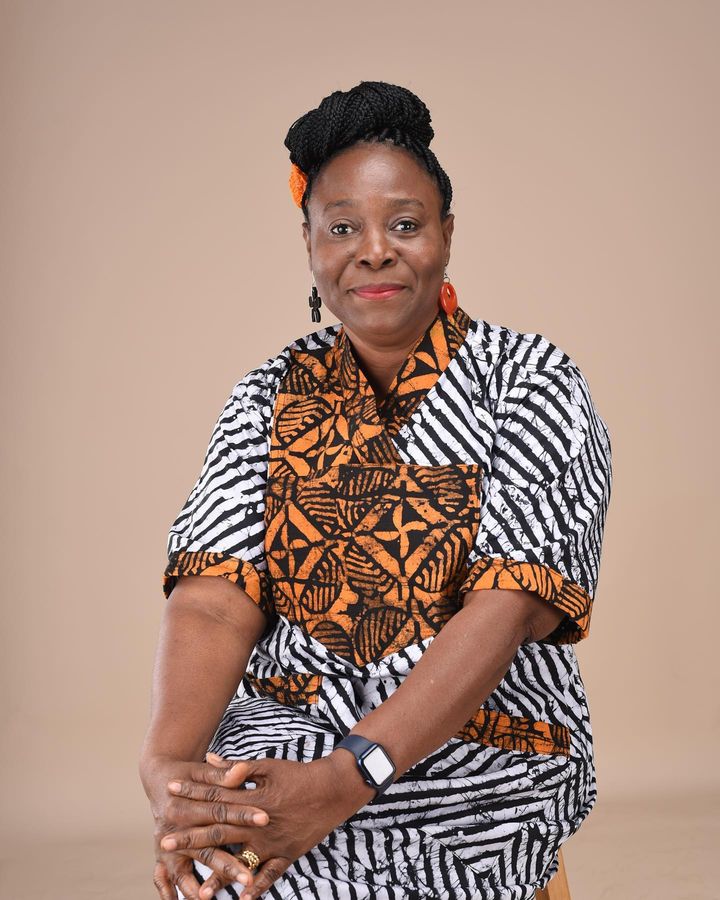 Muraina Oyelami
Muraina Oyelami's paintings and works on paper depict Yoruba culture by combining traditional elements with modernist abstraction and figuration. Oyelami, a visual artist and musician, is a significant character in Nigeria's Osogbo art scene. In 1964, he began attending Mbari Mbayo workshops in Osogbo. The institution, which opened soon after Nigeria gained independence from Britain, gave birth to a generation of artists who explored their cultural history using modern, rather than traditional, means.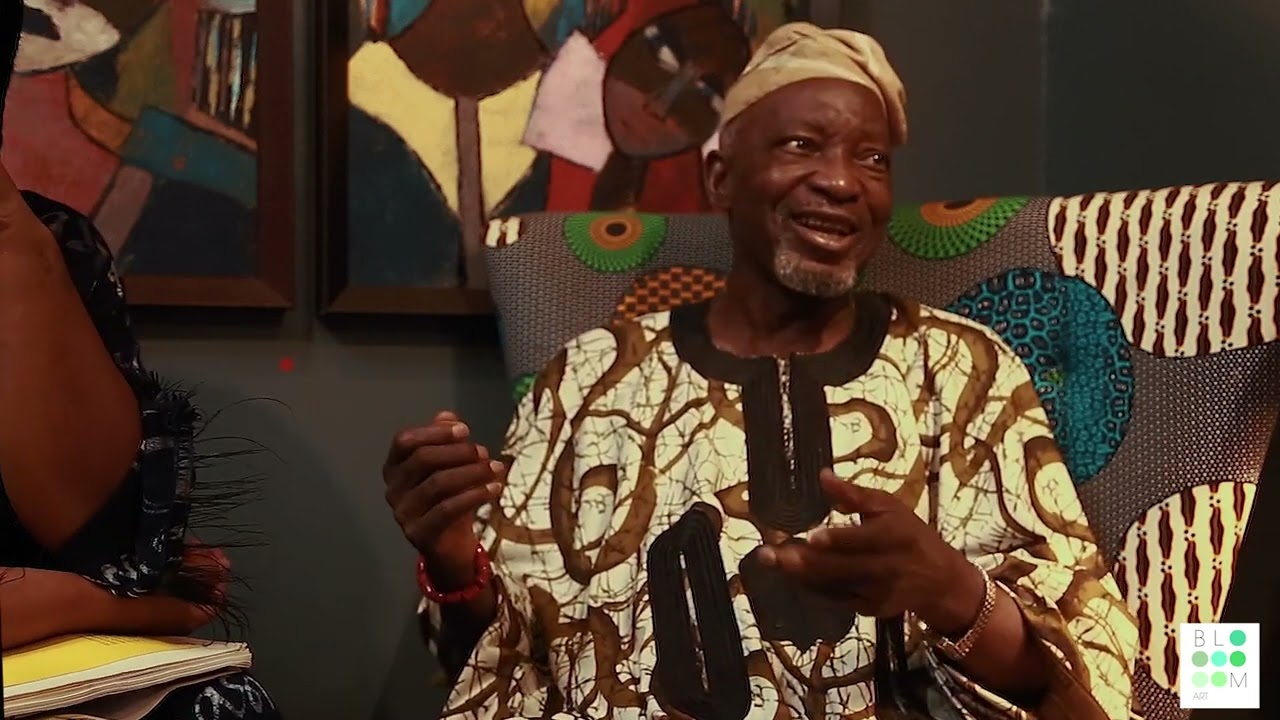 Ndidi Emefiele
Inspired by Nigeria's culture of consumption and reuse, Ndidi Emefiele embraces material experimentation: The artist employs paint, pen, textiles, photographic cutouts, and even found objects such as CDs in her richly textured portraits of Black, predominantly female subjects. The Nigerian-born, UK-based Emefiele studied painting at Delta State University in Abraka, Nigeria, before pursuing her MFA at London's Slade School of Art. Her layered, surreal multimedia works capture the everyday particularities of a distinctly feminine, diasporic experience; Emefiele's settings range from a joyous dance floor to public transit during a morning commute. She has exhibited in Abuja, Lagos, London, Los Angeles and Johannesburg, and she won first prize in the COJA Art Competition in 2003.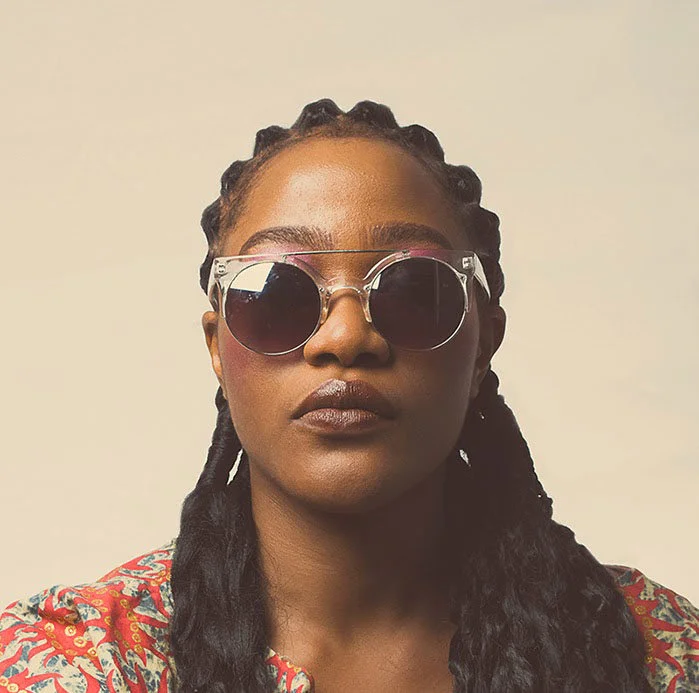 Jimoh Buraimoh
Jimoh Buraimoh (born Jimoh Adetunji Buraimoh) is a painter and artist from Nigeria. Chief Buraimoh is one of the most prominent painters to come from the 1960s workshops in Osogbo, Osun State, Nigeria, led by Ulli Beier and Georgina Beier. He has now become one of Osogbo's most well-known artists. Jimoh Buraimoh's work combines elements of Western media with Yoruba style patterns. When he created contemporary art, style influenced by the Yoruba custom of combining beadwork motifs into ceremonial linens and beaded crowns in 1964, he was acknowledged with becoming Africa's first head painter.
He represented Nigeria at the First All African Trade Fair in Nairobi, Kenya, in 1972. He was also the first Nigerian member of the Contemporary World Association of Mosaic Artists. One of his most famous works was shown at the Festac '77 World Festival of Black Arts.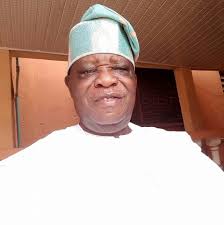 Kehinde Balogun
Balogun Kehinde is a young visual artist who predominantly works in mixed media [oils, acrylics and other media]. She began doing digital art in 2016 and made the transition to traditional art in 2020. In her digital work, Kehinde depicts black women semi-realistically to celebrate their beauty, yet in her traditional painting, she rendered black bodies in relation to their human experience and emotions through subtle surrealism.
Kehinde's art has been exhibited in a few shows, the most recent of which was at the University of Lagos. Her art has also been featured in a few publications, including the Nigerian Institute of Architecture's journal, and a few pieces are owned by collectors in Lagos and Palo Alto, California.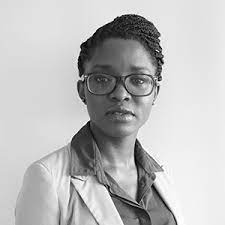 Mavua Lessor
After his National Youth Service, Lessor began the freelance practice which lasted for six years. During this period, he began experimenting with metals and other materials for interior and exterior decorative works. He opened a studio in 1993 and focused on painting, his area of specialisation. For fourteen years, he only exhibited and sold his works through the Signature Art Gallery with which Lessor built a unique relationship that was both cordial and rewarding. Lessor has participated in numerous solo and group exhibitions.
Jonathan "Mavua" Lessor is drawn to what he describes as the "visual extravaganza" of everyday life in Nigeria, a mixed brew of bustling cities, busy markets, crowded streets, political upheavals, religion and traditional and modern culture, the collective phenomena of constant movement interpreted in a textured medley of bright colours that threaten to spill over the edge of his canvases. Lessor once said, "In the midst of our crises, we still have to work, keep moving." With these words, he accurately described his motivation.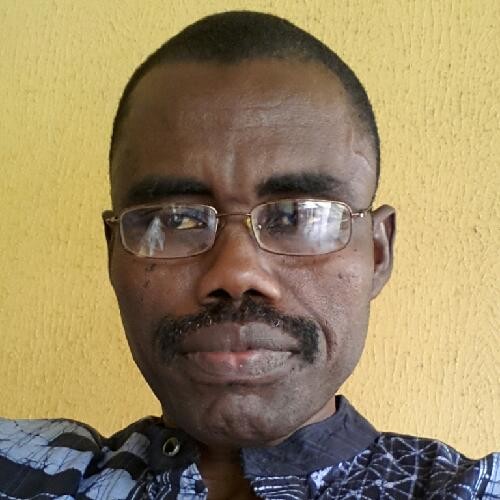 Adeleke Akeem
Adeleke Akeem Olajide is a professional artist. Born in Lagos State, Nigeria, Akeem had a natural ability for art right from his childhood. His primary school education was accomplished in Lagos and he acquired both secondary and tertiary education in Ogun State. Then, he graduated in 2004 from Federal College of Education in Abeokuta, Ogun State, where he studied Fine and Applied Art (Double Major). Since then he has been practising as a full-time studio artist till date.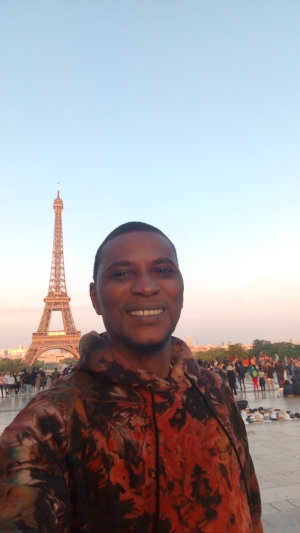 Ogunwo Bolaji
Bolaji Ogunwo is a visual artist from Nigeria. He received his B.A. from the University of Benin in 2000, his Master's degree from the University of Lagos, and his Ph.D. in Painting from Delta State University, Abraka. Over the course of his two-decade studio practice, he has participated in over 50 local and international art shows. He has had five solo shows, four in Nigeria and one in Manchester, UK in 2017. His works can be found in prestigious collections all over the world.
Bolaji is a painting lecturer at the University of Lagos' Department of Creative Arts.
Ndidi Dike
Ndidi Dike was born in London and returned to Nigeria to train as a painter, finishing with a Bachelor of Arts degree in mixed media painting from the University of Nigeria, Nsukka. Although widely recognised as a sculptor, she trained herself to sculpt and has decades of transgressive artistic work. Dike primarily works as a multi-media artist in the current climate of contemporary politics, protectionism, nationalism, and globalization, with a special interest in personal archives and long-term research-based projects and engagement with global histories to address the pre and post-colonial historic and social-economic legacy of the enslaved, and forced migration, among other issues.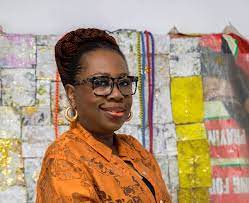 Late Twins Seven Seven
Omoba Taiwo Olaniyi Oyewale-Toyeje Oyelale Osuntoki, often known as Twins Seven Seven, was a Nigerian painter, sculptor, and musician. Before becoming an artist, he worked as an itinerant singer and dancer, first attending an Mbari Mbayo workshop in Osogbo in 1964, led by Ulli Beier and Georgina Beier. Twins Seven Seven went on to become one of the most well-known Osogbo School artists. His work is inspired by ancient Yoruba mythology and culture, and it depicts a wonderful cosmos filled with humans, animals, plants, and Yoruba gods. In the segmentation, division, and repetition of his compositions, his work mimics Yoruba carvings; theoretically, it shows this influence in the emphasis on transformation and balance, as well as its embodiment of dualities such as the earthly and the spiritual, past and present, industry and agriculture.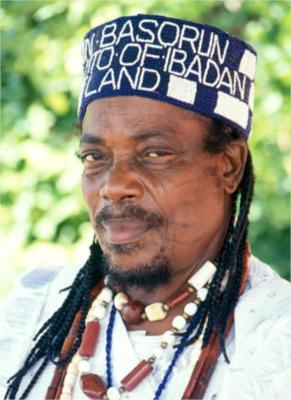 Late Susan Wenger
Susan Wenger, an Austrian-Nigerian artist, acquired the fresco method and honed her sketching talents at Vienna's Academy of Fine Arts. Wenger worked for the communist children's magazine 'Unsere Zeitung,' for which she designed the first edition's cover. Susan Wenger co-founded the Vienna Art Club from 1946 to 1950, a forum for painters, sculptors, writers, and musicians. She won the Italian Art Club's poster competition in 1947 and travelled to Rome and Sicily in 1948. She successfully sold several of her artistic works after returning from Italy in 1947 to an art dealer, Johann Egger, who also had pieces by Hans Arp, Paul Klee, and Piet Mondrian.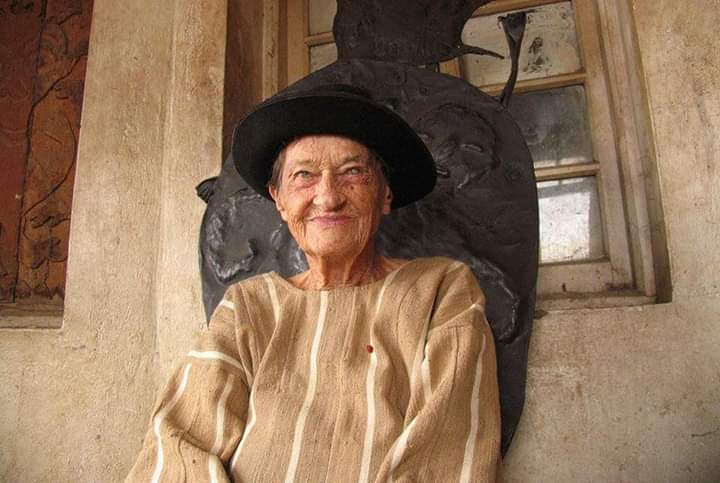 Badejo Abiodun
Even though he could easily generate photo-perfect photographs, Lagos landscape artist Abiodun Badejo demonstrates his undying love for town and country by purposefully using colours that pleasure our hearts. His artworks are likewise on a mission to give us hope.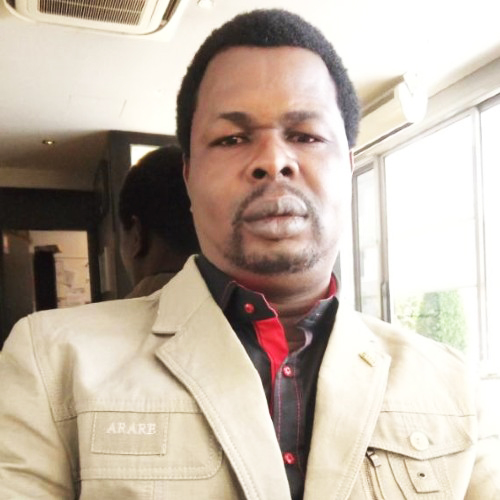 Dudu Emmanuel
Dudu Emmanuel obtained a Bachelor's degree in visual arts from the University of Lagos. He has taken part in various exhibitions and has won several awards for artistic excellence. On his work and art in general, Dudu describes himself as being inspired by his immediate environment and culture. He noted that he doesn't subscribe to the idea of one's art being restricted to some traditional belief or way of life of a particular region or sub-region.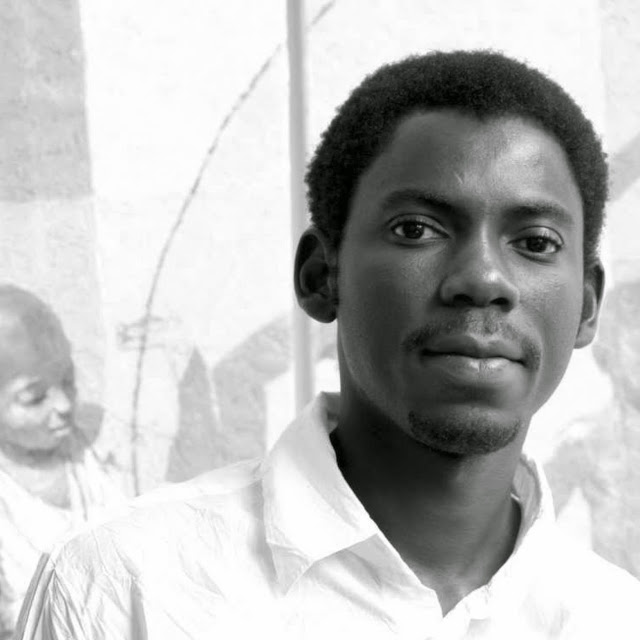 Timi Kakandar
Timi Kakandar explores his passion with the human form in relation to the obstacles, delight, and socio-political issues that arise from living and working in the African space through painting, drawing, and collage. His current work radiates a profound intensity of vivid raw colours and gestural lines that impart a presence that engages the viewer powerfully. He has talent in the composition of human figures using dramatic colours evocative of Fauvism.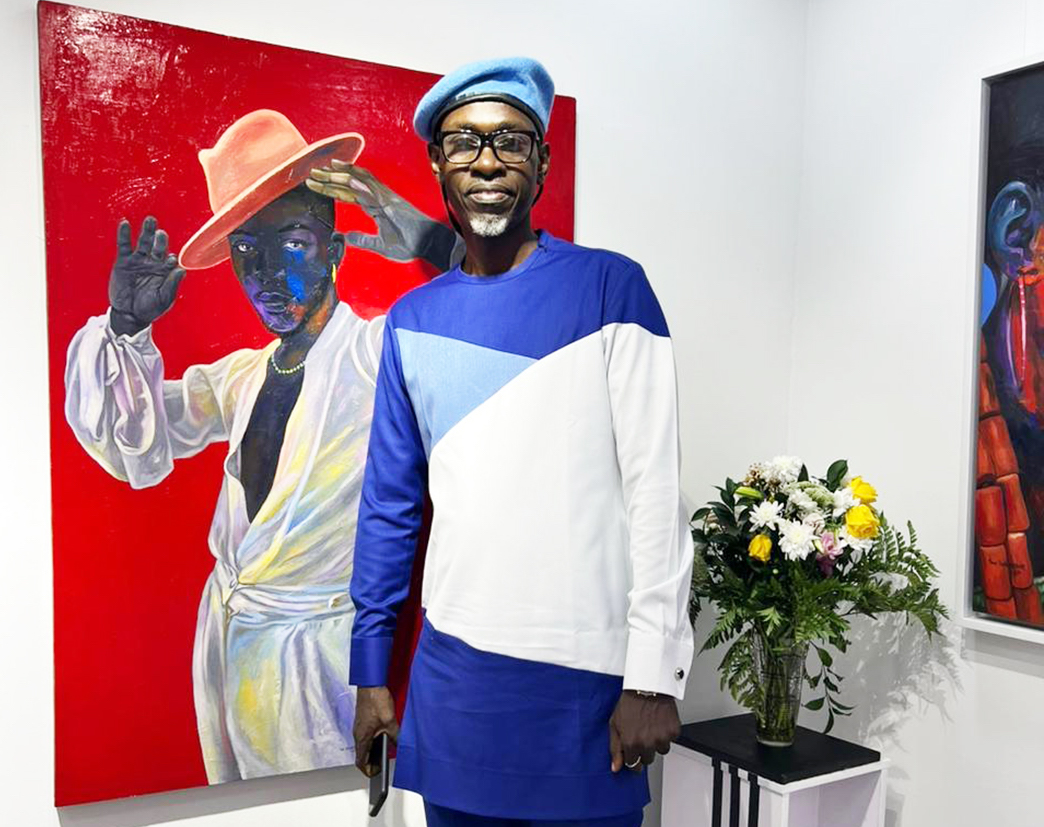 Olojo Kosoko Kolawole
Olojo-Kosoko was born into Lagos' Kosoko Royal family. He received his bachelor's degree in painting from the University of Benin's Department of Fine and Applied Arts in Benin City, Edo State. His work speaks for itself in terms of quality: he is a visionary, a perfectionist, very analytical in his statements, people-oriented, and culture-centred. He has participated in many art exhibitions and trade fairs across the nation. He is currently a lecturer at the Department of Art and Industrial Design, Lagos State University of Science and Technology, Ikorodu.
He is also chairman of the Society of Nigerian Artists (SNA), Lagos State Chapter and a member of the Universal Studios of Art. His art forms include painting, print making, textile design, sculpture, etc.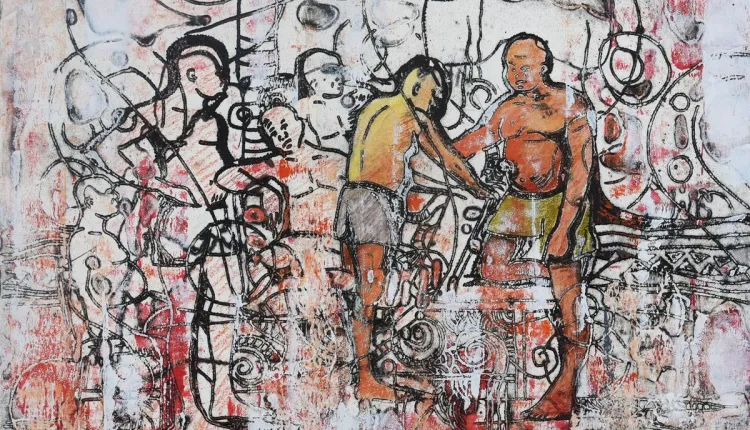 Olotu Ayorinde
Meshack Ayorinde Olotu is a Nigerian painter who was born in Ifon, Ondo state, in 1959. He graduated from Yaba College of Technology in Lagos with a Higher National Diploma (HND). Olotu is well-known for his landscape paintings of Nigerian cities as well as his pictures of historical events.